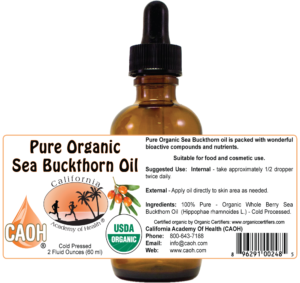 Question: Hello Dr, and thank you for the opportunity to ask you health questions regarding caoh's products. I have been trying to ascertain if I should take this your sea buckthorn oil on an empty stomach. I had called and asked someone who answered the phone, and she said she takes it on an empty stomach, but I got the feeling that she wasn't sure which was best either (empty vs. with food) so I wanted to ask you what you think.
Thank you!
James
Answer:  James,
Since sea buckthorn oil it is a food, it will digest better when combined with other foods. Also, this particular oil will be more effective if combined with a complete spectrum of essential fatty acids, like our Ultra Omega 3-6-9 (2 per day).
What are you looking at handling and maybe I can make a better recommendation.
Sincerely,
Interesting article about the effects Seabuckthorn Oil has on Vaginal Atrohy.